---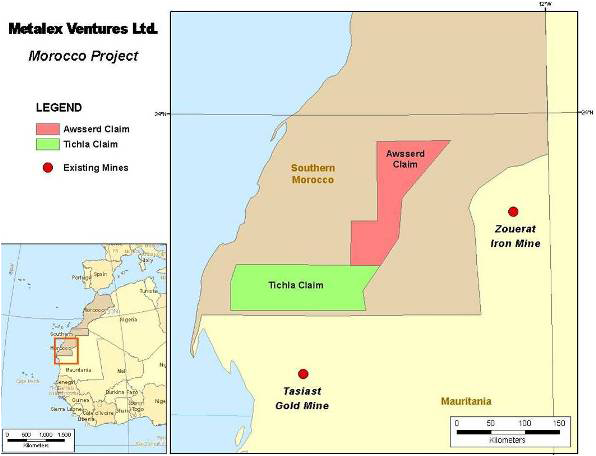 ---
Joint venture between Metalex and ONHYM (Moroccan Government)
Metalex has a 60% contributing interest
Claim area covers 17,100 km2 of Archaen Cratonic and Proterozoic rocks which have never been explored for diamonds or other base minerals previously.
---
TARGET RATIONALE
Area considered prospective for commercial kimberlite hosted diamond deposits as well as commercial deposits of gold, base and precious metals, platinum groups metal and iron ore because:
Part of the project area is the unexplored northern section of an Archaean craton in which diamonds and kimberlite have been found to the south in the Mauritananian part of the craton.
The area can be explored by systematic soil and drainage sampling for diamond indicator minerals and geochemical analysis of heavy mineral concentrates.
The prospectivity of the license is further demonstrated by the presence of Kinross' 20 million ounce Tasiast gold mine located 100 kilometers to the south and SNIM's world class 5.7 billion ton iron mine 200 kilometers to the east.
---
METALEX WORK
Since 2004, over 3,000 samples have been collected and processed.
Sample results have discovered an abundance of anomalies: -Southern (Tichla) Area: diamond indicators in 16 areas, gold in 28 areas, Ni-Cu-Co in 18 areas, Zn-Cu in 13 areas and uranium in 3 areas.
-Northern (Awsserd) Area: 2 areas show significant promise for diamondiferous kimberlites, gold in 10 areas, Ni-Cu-Co-Zn in 8 areas, Cu-Co in 4 areas, Zn-Ni-Pb in 15 areas, Pb in 1 area and uranium in 3 areas.
---
FUTURE WORK
Next phase of exploration is to fly a significant airborne geophysical survey over the license
Systematic follow up sampling and prospecting of priority anomalies
Drill testing